There will still be a transfer to the fifth diameter at Kitay-Gorod.
Almost exactly a year ago, a promising scheme for the development of the metro and MCD until 2027 was published on the official website of the Moscow Construction Complex. The Rublyovo-Arkhangelskaya metro line first appeared on it, and Biryulevskaya and Troitskaya were brought to their final points.
And today, Vladimir Titov, director of the MosTransProekt Research Institute, which is involved in the development of the metro in Moscow, shared the latest version of the map – until 2030. Its most ambitious novelty was recently re- announced the MCD-5 line, which for the first time showed a station in the city center and a branching into three routes in the northern section.
On the D5 scheme published by the deptrans in July, the section between Paveletsky and Yaroslavsky stations was not worked out and was a thin line without stations. Now we see that the new diameter will have only one station on this section, but in the center – on Kitai-Gorod, with a transfer to the stations of the same name on the orange and purple lines. Thus, MCD-5 will become the only diameter with a station in the historical center of the city. This is not directly stated anywhere, but given that they want to connect the two stations with an underground tunnel, then, most likely, Kitai-Gorod will also be the only underground station of the MCD.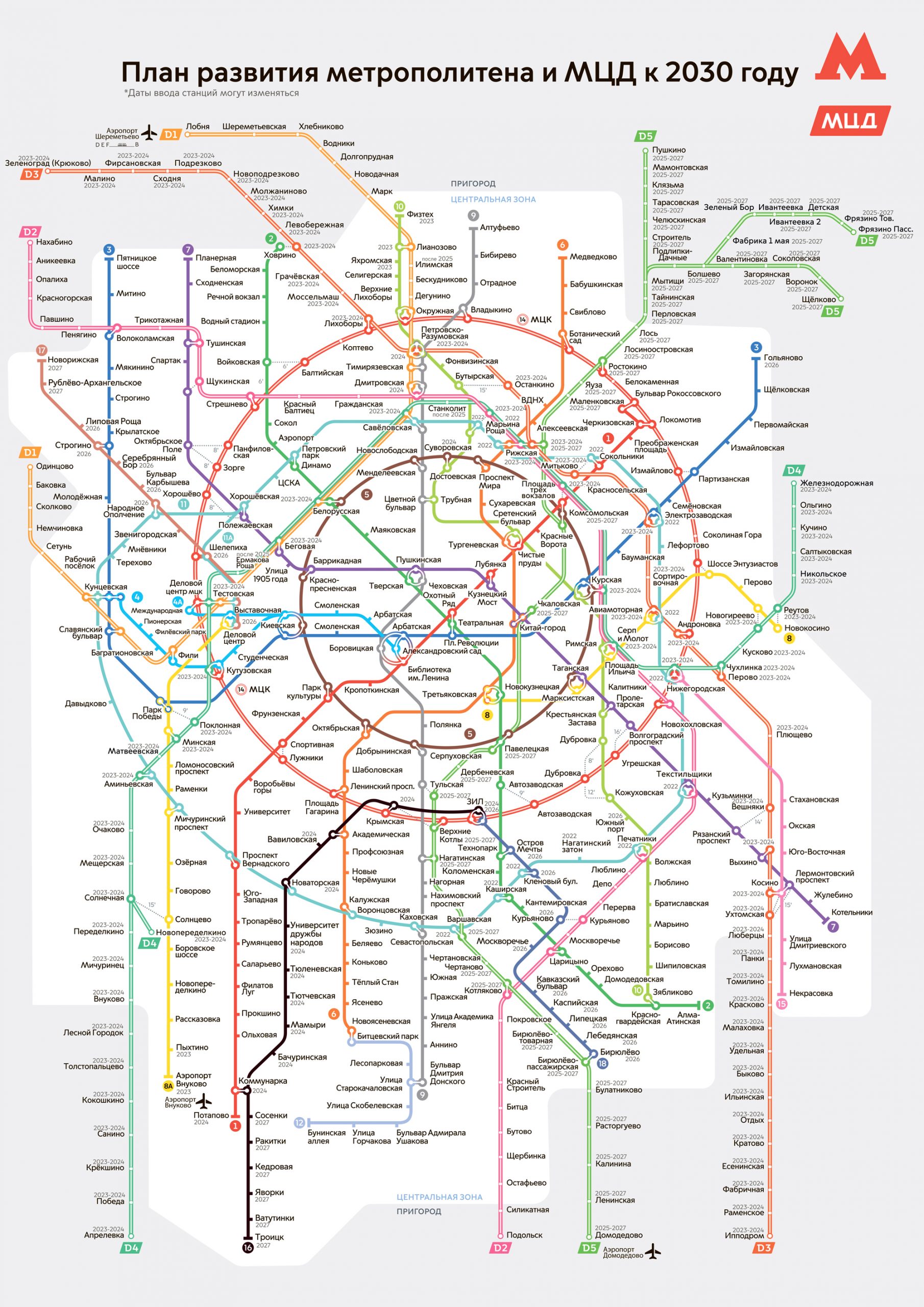 In addition, the diagram shows that the fifth diameter in the south will pass to Domodedovo (as informs RBC, right to the airport), and in the north, beyond Mytishchi, it will be divided into three lines – to Pushkino, to Fryazino and to Shchelkovo.
Another of the changes – Rublyovo-Arkhangelskaya, Biryulyovskaya and Troitskaya lines finally found their own colors: burgundy, blue and black, respectively. Moreover, the blue color of the Biryulyovskaya line practically does not differ from the blue color of the Arbatsko-Pokrovskaya line, except perhaps a little lighter. And the Rublevo-Arkhangelsk line was also quietly extended – the Novorizhskaya station will become its new terminus.
Compared with the current state of the metro, the main changes can be described as follows: 54 stations will open in 8 years, three completely new lines will appear, the BCL will close and three more central diameters will be launched.
By the way, there is still a completely small, but very convenient detail on the map – absolutely all ground transfers indicate how many minutes they take. Conveniently, the current schemes of this trifle are very, very lacking.